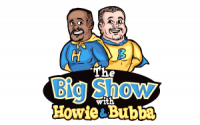 Howie & Bubba
Howie and Bubba have been on the radio together for the better part of 16 years. Both were born and raised by a wild pack of wolves under a porch somewhere in Joplin, Mo.
Bubba spent some of his much younger years in the U.S. Navy before finding his way onto the radio. He was once voted Most Ruggedly Handsome Man in the Four States, by himself.
Howie found his way into broadcasting after being discovered at 18 years old rocking the drive-thru mic at KFC at 20th and Main Street in Joplin(yep true story). He was on to KC, and Dallas before landing back in Joplin. Both Howie and Bubba continue to raise their families and inspire tens of people every day to shoot for the stars.
---