We found this great weekend event coming up in October. We can honestly say that we've no seen Sasquatch, we hope you find him and look forward to the selfies. Search for Sasquatch and help a cause, Mintahama Inc 501(c)(3) raise funds improving the historic Mintahama area.
Mintahama.com/sasquatch
Coming up soon just south of Joplin at the closed private camp property Mintahama.
$100 to enter and $1000 prize to the first to take a close-up selfie with Sasquatch and post to social media Mintahama! This is a fundraiser to reopen the property as a public venue for the community to experience nature. Only 115 people per night.
---
Event Address: Mintahama, 7013 Eland Rd, Joplin, MO 64804
Event Timing: October 17, 2020 at 5:30pm or October 24, 2020 at 5:30pm, until Sasquatch is found!
This is a rain or shine, non-refundable, a charitable fundraising event supporting the Mintahama Inc 501(c)(3) nonprofit in its capital campaign to put a downpayment on the Mintahama property and reopen as a public venue for camping and education for all.

Before the sun sets, participants in The Search for Sasquatch at Historic Mintahama will set out into the woodland acreage past Lake Mintahama on a quest to capture the legendarily elusive creature.

The first person to take a close-up selfie with Sasquatch and post the proof onto Mintahama's facebook page #forCampMintahama will win the $1000 prize. Each event night is limited to only 115 participants.

Contact us at publicrelations@mintahama.org with questions or to find out more about how to become a Mintahama sponsor. (or click yellow link)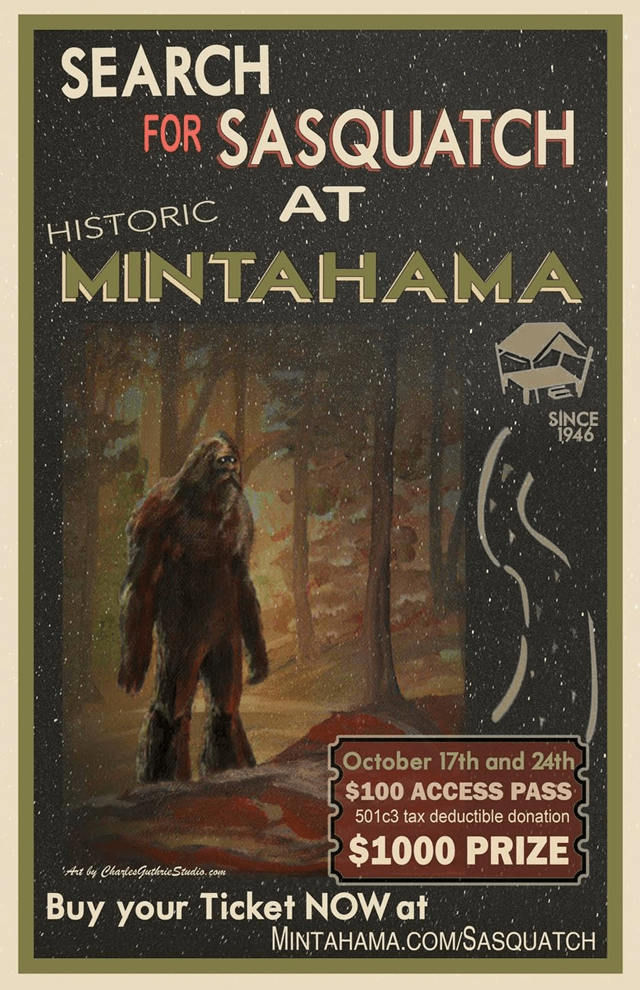 Tags: