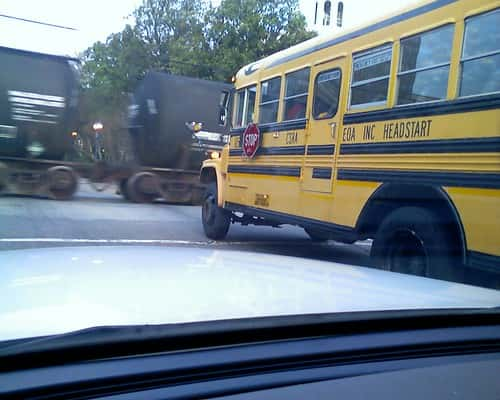 "Close again" by aconaway1 is licensed under CC BY-NC-SA 2.0
Release from the Kansas State Department of Education:
"Task Force devising plan for Continuous Learning"
Unprecedented circumstances that threaten the safety of our students and the professionals who work with them every day require swift, thoughtful and coordinated action. On Tuesday, March 17, Gov. Laura Kelly announced that school buildings across the state must be closed for the duration of this school year for the purpose of general student and staff attendance. However, learning will continue for Kansas students.
A 25-member task force comprised of many of the state's top educators in Kansas continues working to develop plans for Continuous Learning. The task force will deliver their recommendations to Kansas Commissioner of Education Dr. Randy Watson by Wednesday evening.
Kansas education is among the finest in the country. Closing classrooms and moving to a Continuous Learning plan can't begin to replicate our state's education structure as we know it, but it can help ensure strategies that will provide a bridge back to the world-class learning our students benefit from today.
Essential staff members – as determined by local district officials – may be needed through Friday, March 20, to assess and prepare for facility maintenance. While schools are closed, administrative offices and support facilities may remain open as needed.
Once buildings are thoroughly sanitized, they will be able to reopen for small groups of school personnel to implement a plan for Continuous Learning.
We realize this is a difficult time, but Kansans always have persevered – and we will continue to do so. We will work together to get through this, and we will overcome this challenge and emerge stronger."
Pittsburg Community Schools USD 250 and all other K-12 schools will be closed for the duration of the 2019-2020 season.

PSU to close facilities two weeks;
remote work plan to begin March 23
As the public health challenge COVID-19 accelerates across the nation, the facilities of Pittsburg State University will close for two weeks starting on Monday, March 23.  
For this period, employees who are able to work remotely, as determined by their supervisor, will do so. A small number of employees will be required to work on campus.
All employees will continue to be paid, including student employees.  
Coursework, which faculty are working this week to transition to online only after suspending face-to-face classes on March 16, will resume March 30 as planned.
Most campus buildings will be closed during this time, including Axe Library, the Student Rec Center, labs, offices, and other physical space. Bryant Student Health Center will remain open to serve students.
"These are unprecedented times, and we appreciate your patience," said PSU President Steve Scott. "Our plan is influenced by Governor Kelly's announcement about executive branch employees on March 17, and adapted to fit the unique nature of our university as we work to preserve progress toward degrees for our students."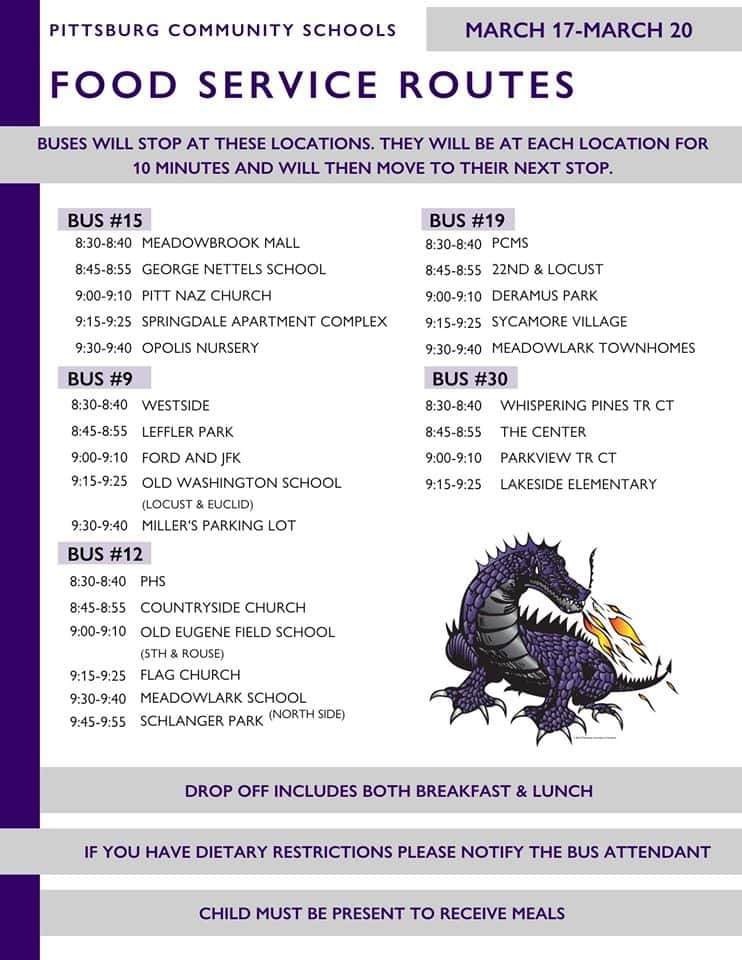 DRAGONS:
FREE meals will be provided to all ages 0-18, Children must be present to receive a meal. Breakfast and lunch will be provided for curbside pickup following the route schedule. All deliveries will be made on a USD 250 school bus. Please notify the bus attendant of any dietary restrictions.
*UPDATE* BUS #15 will now stop at Opolis Post Office at 9:30, not Opolis Nursery
Click HERE for more information regarding school closings in our area.


Missouri State President Clif Smart will be available at 11 a.m. today in the Meyer Alumni Center, Room 505, to answer questions.
Spring break extended one week; all in-person classes move to alternative delivery on March 30
SPRINGFIELD – Missouri State University is extending it's spring break for an additional week, through March 27. Full details are available on the COVID-19 website.
On March 30, classes will resume via alternate delivery methods. Face-to-face classes are cancelled through at least the end of the semester.
Campus services
Unless otherwise directed, the campus will remain open.
Residence halls will remain open to those who must be on campus. Modified dining options will be provided.
Access to the library and computer labs will remain available on a modified schedule.
Mager's Health and Wellness will remain open.
Plaster Student Union will remain open.
Foster Recreation Center will close March 17.
Events
All non-academic and student events scheduled through the end of the semester are cancelled.
Commencement will proceed; although, the date and details of the ceremonies are subject to change.
Campus meetings
In alignment with city and county directives, all campus meetings, events and conferences exceeding 50 people are cancelled or postponed.
Please refer to our calendar of events for additional details.
Additional information to come
More information regarding classes will be available next week – including course deadlines, registration, etc.
Detailed information for university employees will be sent on March 19.