Today we lost an American country music legend, Charley Pride. According to an official press release, Charley Pride passed away in Dallas, Texas at the age of 86 due to complications from COVID-19. "Pride whose rich baritone voice and impeccable song-sense altered American culture.
Country Music Hall of Fame and Grand Ole Opry member Charley Pride was the son of Tessie Stewart Pride and Mack Pride, Sr., and the husband of Ebby Rozene Cohran Pride. His children are Carlton Kraig Pride, Charles Dion Pride, and Angela Rozene Pride. His grandchildren are Carlton Kraig Pride, Jr., Malachi Pride, Syler Pride, Ebby Pride, and Arrentino Vassar. His two great-grandchildren are Skyler Pride and Carlton Kraig Pride, III. He is preceded in death by brothers Jonas McIntyre, Mack Pride, Jr., Louis Pride, Edward Pride, and Joe L. Pride, and by sister Bessie Chambers. His siblings Harmon Pride, Stephen Pride, Catherine Sanders, and Maxine Pride, as well as numerous nieces and nephews.  Charley Pride died as a result of complications from COVID-19. in Dallas, TX.
AMI Radio's James Anthony says Charley Pride was a big fan of the Dallas Cowboys and would see him at the games, supporting his favorite team.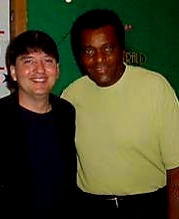 In lieu of flowers, the family asks for donations to The Pride Scholarship at Jesuit College Preparatory School, St. Philips School and Community Center, The Food Bank, or the charity of your choice.

Read more on Charley Pride HERE
Please enjoy this video of Charley performing "Kiss an Angel Good Morning" at the 2020 CMA Awards.

Tags: