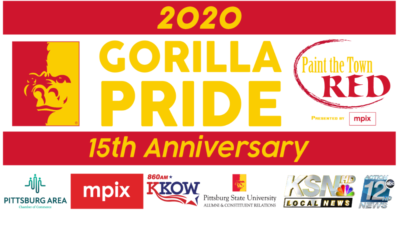 Pittsburg it's time to show your Gorilla Pride and Paint the Town Red!
We would like to say thank you to Blake Benson and Julie Reams for their appearance on Four States Live. Blake and Julie came to the radio station to talk about PAINT THE TOWN RED! Be sure to VOTE!!
Windows and Lawns all over Pittsburg are decked out in Red and gold this week as the community and the campus participate in Paint the Town Red.
The Business Decorating Contest Registration is open.
Special Thanks To Businesses Registered to Decorate:
Crawford County Mental Health
Bamboo
Colton's Steak House & Grill
Pitsco Education
Arck Construction
Landmark Bank
Arvest Bank
Wood Dulohery
Security 1st Title
Audacious Boutique Pittsburg
Jones Heritage Realtors
Rib Crib
Alpha Sigma Alpha
GNBank
Riggs Chiropractic
Show your Gorilla Pride and "Paint the Town Red" by decorating your business to celebrate the PSU Virtual Homecoming October 16th. Half of your $50 registration fee supports our PSU PTTR Scholarship.
Benefits
Eligibility for the decorating contests and prizes
Entry in the Community Favorite Award voting
Pre-event recognition for your business
Recognition
Division winners will be announced during the virtual homecoming live on Friday, October 16th.
Winner's will receive a traveling trophy to display for a year.
Decorating Theme: Gorilla Pride
Evergy Community Favorite voting will be held Thursday, October 15th from 9 am – 5 pm.
Division judging will take place the morning of Thursday, October 15th 9 am – 11 am.
Contest Guidelines and rules will be provided to each registrant.

Tags: